Peter Phillips Retrospective at 99 Mary Street
99 Mary Street have the pleasure of presenting legendary and highly influential British pop artist Peter Phillips. No mere retrospective, the show will play host to archive pieces, new works and revisited works including pieces produced specifically for this event. In this important showcase of the entire panoply of the Phillips oeuvre, visitors will be offered the chance to see and buy previously unseen prints. For any pop art/modern art fan or collector, the Phillips at 99 Mary Street exhibition is a rare and exciting proposition.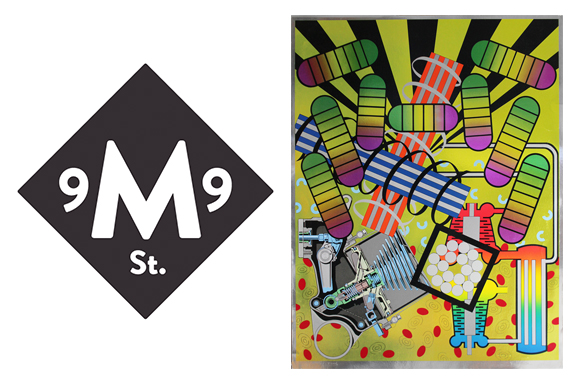 The work of Peter Phillips goes a long way to prove that Pop Art remains as relevant today as it was in that crazy and perpetually fascinating decade in which it was born. His early works continue to exude a provocative power and freshness to our 21st Century eyes, yet his contemporary pieces deliver the same undiminished punch. Phillips continues to offer back to us fragments of our cultural landscape in an unrelenting and unsettling expose.
As an artist Phillips has remained fully committed to the central tenets of his original line of enquiry, a rare integrity and has simply evolved along a continuum. Thus allowing his entire body of work to sit together in a most complimentary way, a seamless narrative spoken over more than five decades.
Refusing to run out of steam or simply rest on his well deserved laurels, Phillips continues to pose the same questions we see in his late mid century pieces. The boldness and vigor remain unabated and undiluted by recognition, his wit and eye unsullied by the journey. He kicks us in the senses with the same gusto as the artist as a younger man, the exact same foot in a modern boot.
Long may he remain this undiminished symphony for the eyes.
See more at: 99 Mary St.
New Works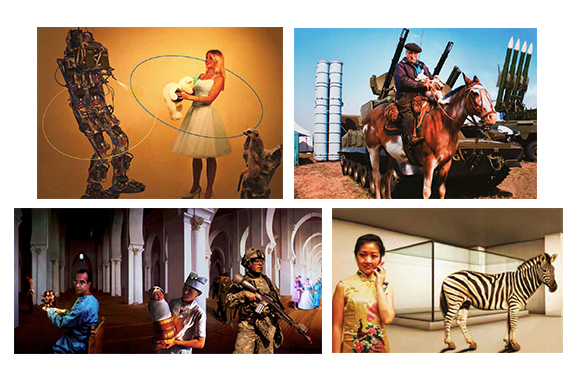 Phillips' present creative works are a new expression of recurring themes that have been present since his early works. Found images are re-assembled and painstakingly reproduced by hand in new and thought-provoking ways. Breaking free from a rigid, structured format, these fluid environments play host to the the dreamlike interplay between machine and man.
The artist's aesthetic presentation has always been a reflection of the the physical and social environment in which he works. However, Phillips cautions against assigning a specific narrative, as each work's interpretation is purposefully left up to the viewer.
Reimagined Early Works

Star Card Table
A classic pop art piece, 'Star Card Table' was originally painted in London in 1962 and was featured in Ken Russell's movie, Pop Goes the Easel. The work features a seductive face framed by a five-pointed star, marking the outline of a square. Phillips chose 'Star Card Table' for this special edition because of its iconographic pop art look and particularly likes its simplicity of design, allowing differences in color to subtly shift the tenor of the piece.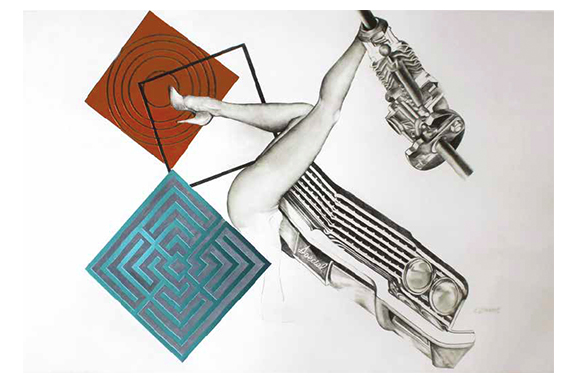 Drawing Series 3
'Drawing Series 3′ was originally constructed in Phillips' swiss studio in 1967, where he relocated from New York a year earlier to work with Galerie Bruno Bischofberger. The work literally 'draws' on many common images found throughout Phillips early works: Machine, Car, Woman. 'Drawing Series 3' also features a set of concentric circles and a labyrinth – which Phillips became fascinated with while in New York – both of which lend themselves perfectly for foil printing in this special edition release.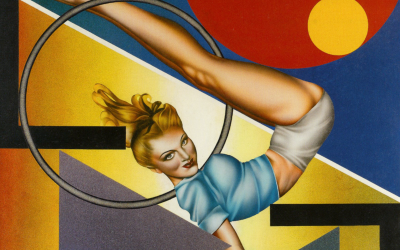 Peter Phillips has been commissioned by the BBC to create a new BBC Four ident which will run throughout August alongside new logos produced by his fellow Royal College graduates Peter Blake and Derek Boshier. The trio starred in the seminal 1962 Ken Russell documentary about Pop Art, Pop Goes The Easel.
read more